BRUSHING TECHNOLOGY
The demand for a competitive advantage has prompted many manufacturers to offer something unique and innovative to their customers. The process of customisation of the wood item is therefore a unique concept on the market.
A valid system to customise the product is that of brushing: the operation involves modifying the surfaces and highlighting the wood grain. Essentially what is taking place is drawing out from the wood what already exists, that is the natural shape of the grain, giving a natural and very refined appearance.
The fact of combining the brushing parameters such as depth and softness and secondly the colours of the impregnation fuels the imagination to create different solutions according to personal taste.
The term "brushing" is generic and groups all the tasks performed with brush machines such as sanding, polishing, cleaning and in our case, antiquing.
Technically the operation of antiquing is performed by means of brushes that, put into rotation by a special machine, abrade the wood, consuming it. Soft grain abrades to a greater extent while hard grain abrades much less thus remaining more pronounced.
EXAMPLES OF BRUSH TECHNOLOGY APPLIED
BRUSHES FOR ANTIQUING
The brushes are nothing more than the tools of the machine that carry out the processing, and, as for tools also for brushes there is a world of types of brushes, and they are chosen according to the essence to be worked and the finish desired.
The characteristic features of a brush are:
external diameter
brush body diameter
wire height
type of wire
wire diameter
diameter of the tuft
brush density
CLASSIFICATION OF THE BRUSHES
BRUSHES WITH STEEL WIRE

BRUSHES WITH TYNEX (SILICON CARBIDE) WIRE

BRUSHES WITH ABRASIVE SHEET FLAPS
BRUSHES WITH STEEL WIRE
Example of a very aggressive open braid wire brush for hard woods such as oak or exotic woods. Shortening the wire
and/or decreasing the open part of the braid increases the aggressiveness of the brush.
Example of a medium aggressiveness corrugated brass type single wire brush for medium-hard wood such as oak or larch,
also suitable for resinous woods to obtain deep and very marked rusticatin.
Example of a very flexible long braid wire brush for soft woods such as pine and fir.
BRUSHES WITH TYNEX (SILICON CARBIDE) WIRE
Example of a flexible short braid wire brush for soft woods such as pine, fir.
Example of a long tynex wire brush 1.6 mm grit 36, suitable for softwood or the finishing of hard wood.
Example of short tynex wire brush 1.6 mm grit 60, aggressive, suitable for soft wood or the finishing of hardwood.
Example of a short tynex wire brush 1.6 mm grit 80 for finishing, suitable for soft wood (soft rusticating) or hard wood finishing.
Example of a short tynex wire brush 1.1 mm grit 120 for finishing, suitable for finishing (trimming hair), soft wood and medium woods.
BRUSHES WITH ABRASIVE SHEET FLAPS
Example of a sanding machine brush with abrasive sheet flaps (grit 100) and plastic filaments support for finishing cleaning.
Not suitable for antiquing.
ANTIQUING MACHINES
Antiquing machines are divided into two groups:
SINGLE-SIDE MACHINES (single side machine normally work the top side)

MULTI-SIDES MACHINES (multi-sides machines work three or four sides at once. Normally the visible sides on a roof or ceiling are three)
SARMAX SINGLE-SIDE MACHINES
Examples of open single-side machines Cheyenne SP2 and Cheyenne BASIC 2
SP2-400/600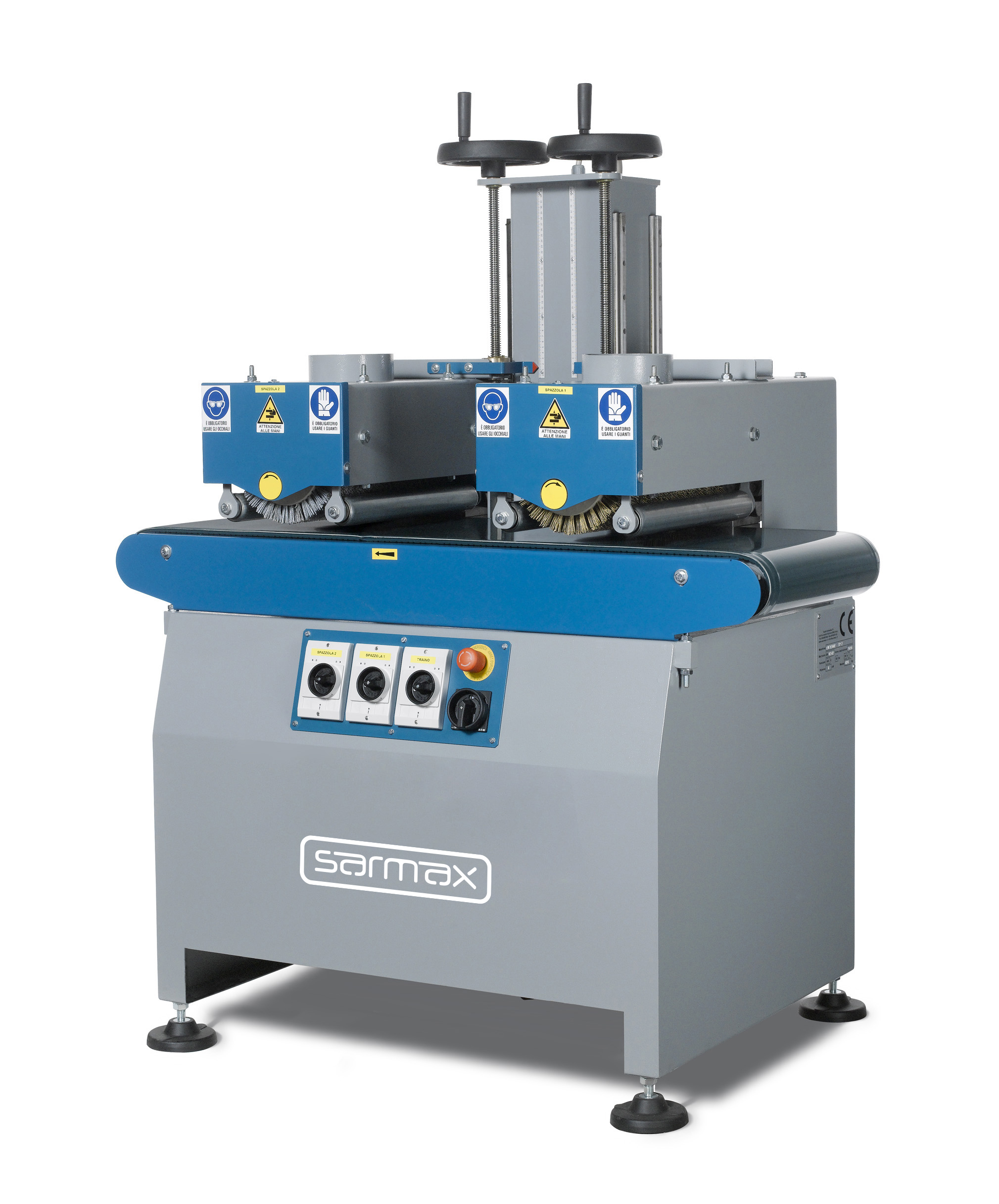 BASIC 2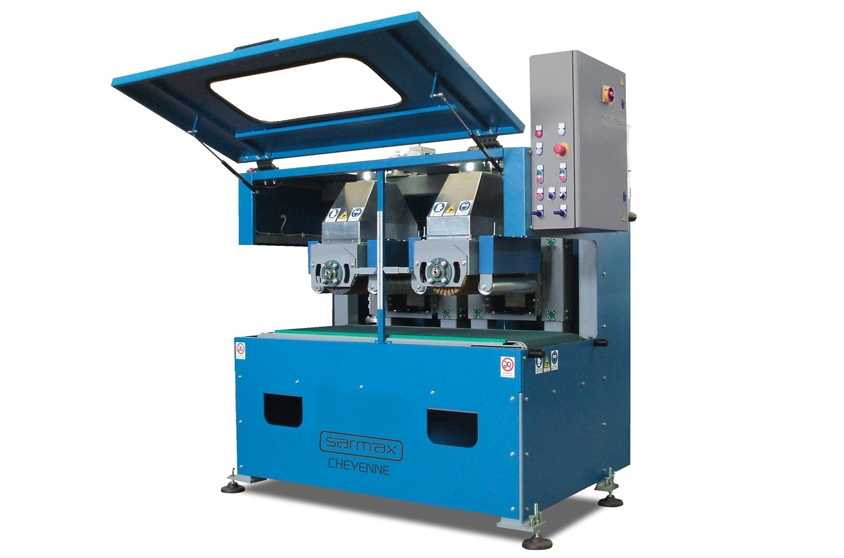 The Cheyenne single side rusticating machines have been designed and manufactured using cutting-edge production technologies able to provide: strength, operating precision, reliability over the years.
Main features are:
vertical sliding system with high-precision guides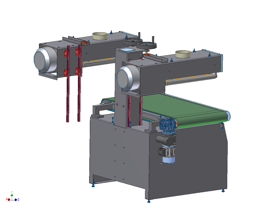 adjustable double-spring pressers with galvanised-steel rollers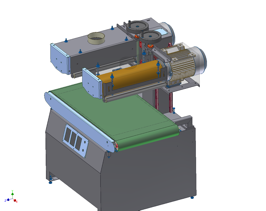 dynamically-balanced high-speed brushes for vibration-free operation.
motor unit with integrated shaft for extra strength.
​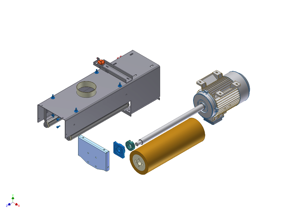 SARMAX MULTI-SIDE MACHINES

Functional diagram:
In this scheme the feed direction is from right to left. The orange roller represents the brushes.
The beam is introduced with the longest side positioned upright. The side of the beam that is mounted above against the bead in the machine is introduced from below.
The four vertical brushes are mounted on the same guide and can move sideways following the arch shape of the beam.
It is preferable to work vertically, especially for line machines, so that in an impregnation finishing line the beam always travels in the same position without the need to be rotated.
The Cheyenne multi sides rusticating machines are also available with large Ø brushes: 400 mm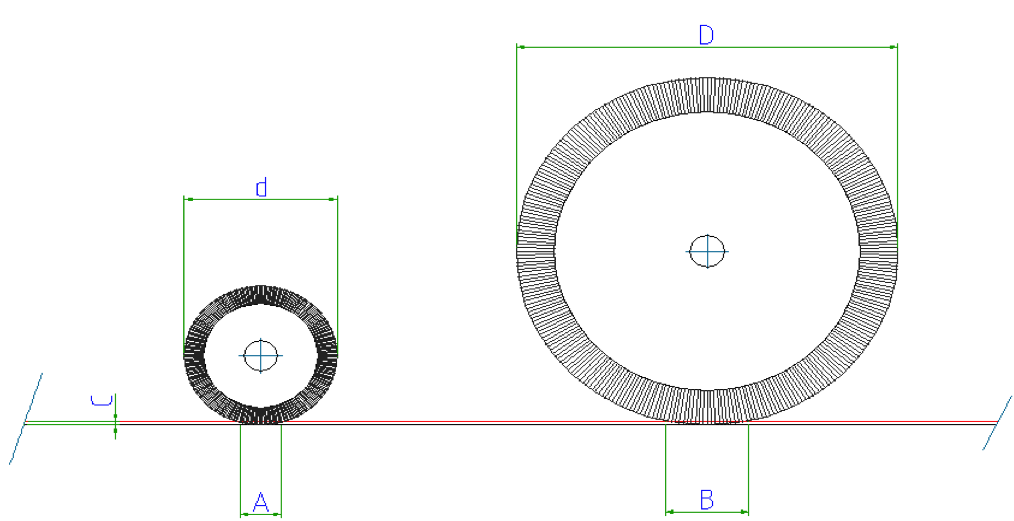 Main advatanges of large Ø brushes are:
low speeds of rotation resulting in a decrease of work temperature
extension of the life of the brushes with greater and better yields
possibility of deep rusticating with low energy used
higher feed speeds with a reduction of working time; etc.
Examples of a three sides machine Cheyenne 3 F